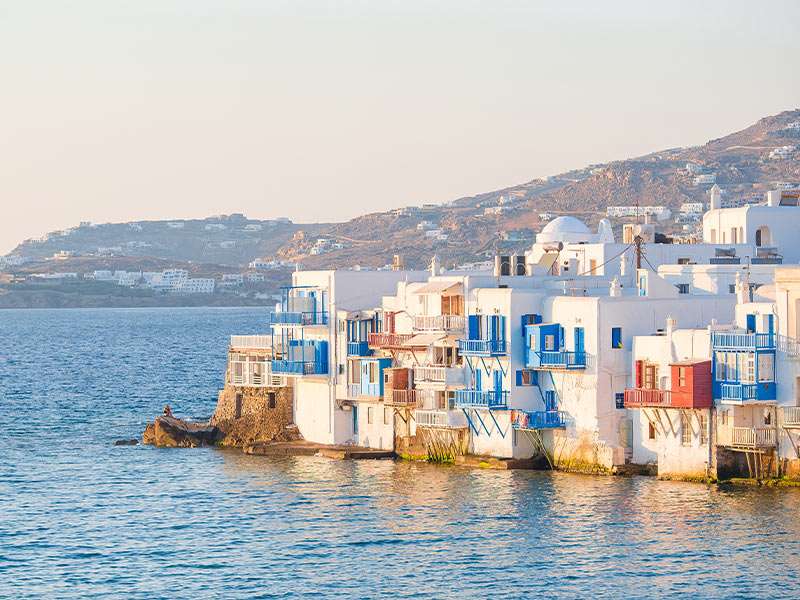 Peek into Greece's jewelry box of islands, and Mykonos will stand out.
Its gold beaches, sapphire waters, and emerald hillsides provide a stunning setting for a brilliant cosmopolitan experience. Mykonos' luxury lifestyle and world-renowned nightlife are genuinely unique.
What makes Mykonos so famous around the world?
This sundrenched island balances the best of all the Greek islands—premier designer boutique shopping, breathtaking art galleries, and divine dining in some of Greece's most famous restaurants.
At the same time, the island also reserves space for tranquil moments among its many archaeological sites, charming villages with pretty cobbled alleys, and exotic beaches that stretch along the deep blues and greens of the Aegean sea.
The must-stop during your luxury yacht cruise
Lying in the heart of the Cyclades Islands, Mykonos is too irresistible to pass by without stopping. It's a highlight of many Cycladic Island yachting itineraries.
Being such a lively cosmopolitan hub, it can be hard to know what to do and where to go. When cruising Mykonos on a luxury yacht with OCEDA, our professionals will tailor an experience just for you.
In the meantime, here is a glimpse into why this island is so beloved…
The irresistible beaches of Mykonos
Mykonos has long been a beach-lovers paradise. In peak season, some can become crowded, but if cruising the Greek Islands in the off-season, these idyllic beaches empty out, allowing their full beauty to be uncovered.
Even if you are here during peak summer months, you can find the perfect-fit beach for you to relax on—sandy, pebbly, organized, or serene. Here are just a few…
Psarou Beach allows you to lay under a thatched umbrella overlooking a bay of yachts that have traveled the world to anchor in front of this sandy beach.
Kalafatis Beach provides the opportunity to stretch out and be active. Tradewinds entice windsurfers and families that want to spread out for a picnic or some games in the sand.
Agios Ioannis Beach will take you out of the wind and provide you with sheltered waters that are crystal clear and perfect for a relaxing dip.
Mykonos is embraced for its elegant beach bars where you can lounge and sip the day away in style. And when the sun is replaced by the moon, Mykonos' legendary night comes to life.
Alemagou, on the secluded Ftelia beach, offers beach beds and cabanas to bask and mingle under the dappled shade. On the expansive open terraces, you'll find the bar and restaurant serving fresh Aegean-fusion cuisine with an endless Aegean blue view. Known as the best place to watch the sunset, make your way to the sunset lounge for the main event and start your evening dancing under the stars.
The luxury shopping center of the Aegean Islands
Find all your favorite international designers and luxury brands in one place.
Stroll through Nammos Village, an upscale destination that presents all the latest trends and sophisticated fashions before you. This elite shopping experience is enhanced by modern white plaster and stone architecture, planted walkways, and art.
Galleries, spas, and restaurants offer refreshing breaks between the boutiques.
Jewelers and artists have tiny shops displaying their masterpieces throughout the rest of the island.
Souvenirs come in many forms; consider picking up a few local wines, oils, olives, or jars of local wildflower honey to capture the flavors and scents of your visit. Extend the pleasure, and reignite the memories of your trip. Family-run shops can be found in the smaller villages and waterfronts.
Must-try restaurants & flavors
Oh, if only there were more meals in a day…
Mykonos is home to some of the best restaurants in Greece. The problem isn't finding a place to dine; it's choosing which place to dine. Here are a few guaranteed-to-please choices…
Scorpios—make it an all-day affair. Enjoy the beach, the shady outdoor spaces, and the inner gardens. And, when you're hungry, savor Chef Alexis Zopas dishes—served family style to encourage a leisurely meal and fond memories.
Noema—indulge in meals created with indigenous ingredients but with served in a distinctly contemporary manner. Stay into the night for an evening of live music and cocktails under the moon.
Spilia Seaside Restaurant—iconic for a reason. This unique bar is nestled into the Agia Anna cave, overhanging the water. The dining, however, matches in superbness to the atmosphere. Fresh seafood, plucked straight from the restaurant's natural pools, is exquisite.
Discover a range of activities during your berthing
Everything glamorous can be found here. Yet, the natural beauty, a backdrop of traditional Greek architecture, and a history rooted in antiquity give the Mykonos experience a depth and dimension unmatched anywhere else in the world.
There are what seems to be an unlimited number of activities to enjoy on Mykonos— luxury shopping, Michelin-star dining, galleries, vibrant nightlife, world-famous beaches, secluded beaches, decadent spas, or even a day enjoying the best kite-surfing in the world in Korfos Bay.
It's just up to your mood; what do YOU want to do?
Delos the Sacred Island
Mykonos is neighbors with Greece's most sacred island, Delos. When visiting Myconos on a luxury yacht, your captain can take you on a short trip to Delos, allowing you to freely explore the historic site away from the scheduled tour groups.
This small islet is a UNESCO World Heritage site, one of Greece's most important archeological, mythical, and historical sites.
Known as the birthplace of Apollo and his twin Artemis—the gods of the sun and moon—the entire island is designated as an archaeological site.
First settled in the third millennium BC and then throughout ancient Greece, the ruins have never been built over by a modern town or village, allowing some of the most treasured masterpieces to be uncovered here.
Spend the day walking through the Theatre Quarter or viewing some of the finest collections of Greek sculptures.
Historic settlements next to Mykonos
While Delos is a unique experience, Mykonos also has several historical sites that intrigue archaeologists and visitors.
One of the oldest is the neolithic settlement of Ftelia. 5000 years ago, it was a bustling city. Today researchers are uncovering a treasure trove of ancient artifacts, including prehistoric ruins, pottery and vessels, weapons, and idols of worship.
Near Chora, a circular, vaulted tomb from the end of the 15th century BC offers a glimpse into the past. The Mykonian tomb's artifacts—including gold jewelry and ceremonial pots—can be viewed at the Archaeological Museum of Mykonos. Also around Chora are several tower ruins and the Castle of Mykonos.
Secluded beaches
Not all beaches are lined with beach bars and resorts on Mykonos—you can still find private treasures.
One of the most remote beaches is Vathia Lagada Beach. Tucked tightly between two hillsides, a deep cove ends in a secluded sandy beach that offers stunning water colors and is a nature-lovers paradise.
Loulos Beach is a small beach snuggled into rustic rocky outcroppings that escapes the larger beach-going crowds. If exploring shallow coves and pools sounds like a perfect day, this is your beach. You'll probably find an opportunity for a cliff dive, too.
Your yacht's crew can point you to more little-known beaches on the island. Most of these secluded beaches will require a 4×4 or boat transport—something your crew can easily arrange for you.
Charter your luxury yacht with OCEDA & indulge in the Mykonos' experience
Mykonos, while certainly an island not to miss with its elegant contemporary allure, is only one out of hundreds in the Aegean Sea awaiting your discovery.
When looking to cruise through the Aegean on a super or mega yacht, OCEDA can provide transparency to the pricing and process of booking.
Our wide network of yachting connections and incredibly knowledgeable experts help design your perfect once-in-a-lifetime getaway.
Our full package service makes booking and tailoring your dream escape effortless.